High Strain Dynamic Testing (Single Drop Hammer)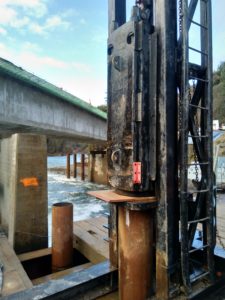 High Strain Dynamic testing is an alternative to static load tests for determining pile capacities. Using a drop hammer along with the proven technology of the Pile Driving Analyzer (PDA), piles can be tested at a fraction of the cost and time. ACS, Inc. has provided high strain dynamic pile testing services on a range of projects and pile types, including:
Driven Piles Including (Steel, Concrete, and Timber Piles).
Auger-cast Piles
CISS Piles
FunDex Piles
Drilled CIDH piles
For our client's convenience, ACS offers the option to rent our proprietary drop hammer for use. Our self contained drop hammer includes a ram with variable weights between 11,000 lbs and 19,000 lbs, a hydraulic winch to easily lift the ram, and a manually operated quick release hook. For piles that don't have enough clearance above grade, the hammer can utilize a load cell with attached force transducers. This load cell sits on top of the pile during testing and records the force data that would normally be read by the strain gauges.
Procedure
For testing, the hammer is placed on the pile and sheets of plywood are placed in between the striker plate and pile to act as a pile cushion. The sensors are then attached to the pile. Depending on the pile size, type, and required ultimate capacity, the ram drop height is determined by a qualified ACS engineer on site in order to activate the required soil resistance. The ram is released with a manual quick release hook and impacts on either the pile or the load cell. The procedure is then repeated at the discretion of the engineer on site.
Installing sensors is quick and easy, and for CISS and FunDex piles. the testing can be performed before the pile is filled with concrete. For auger cast and CIDH piles,  the accelerometers must be attached to the poured concrete.
ACS performs dynamic testing according to the ASTM D4945 test standard using dynamic test equipment and analysis software manufactured by Pile Dynamics, Inc.
For ACS's information brochure regarding High Strain Dynamic, please click here.
To watch a demonstration of ACS's proprietary drop hammer, please click here.